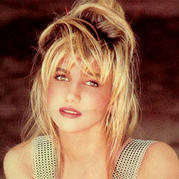 Deborah Gibson (born August 31, 1970, and known by older music fans as Debnie Gibson) is a former teen singer who scored many top 40 hits between 1987 and 1991 (excluding 1990). She was a very talented songwriter, who wrote all of the songs she recirded. When she first hit the top ten in the summer of 1987 with "[[Debbie Gibson:Only in My Dreams", she was the first solo teen singer to hit the top ten since Andy Gibb. Debbie's success was the beginning of a new era for teen solo singers, ending an eight-year dry spell that started around July 1979 when Disco Demolition Night occurred. Her success paved the way for Tiffany and other teen acts. Her popularity, along with Tiffany's, started to weaken by the spring of 1989 when New Kids on the Block became the new obsession by many young fans.
As of May 2018, Deborah does not have a husband nor does she have any children. She will be celebrating her 50th birthday in August 2020.
Community content is available under
CC-BY-SA
unless otherwise noted.